I recently started using rollers again, as I figured lockdown was the perfect time – but this is not my first rodeo, by any means. In fact, I was a really cool child and I used to curl my hair to go to school when I was 10 (yes, really). So it's safe to say I have had YEARS of experience.
However, I feel like I've only JUST mastered the art of rolling (not sure that's what it's called…)
I say "mastered". What I mean is "I can somewhat adequately pull it off now".
Without further ado, here is How To Curl Your Hair With Rollers!
But first: why use rollers? Well, in my experience, the resulting curls last longer. They also give off a really cool vintage vibe if you're into that. Finally, it's better for your hair: no heat = no heat damage either!
The Art of Rolling
Before we get started with rolling, let me convey the most important message: You may have been told to apply rollers to wet hair, but this is not strictly true – while your hair shouldn't be dry, the most important thing is to get the balance right between having hair that is damp, but not too damp. More on that later.
Step 1: Wash your hair
What it says on the tin. Here's the important part: it is imperative that you LET YOUR HAIR DRY after washing it. Doesn't have to be absolutely bone dry, but it definitely shouldn't be damp. Most importantly, make sure the *roots* are completely dry.
If your hair is too wet, it may not dry properly in the rollers at all, leaving you with a messy half-roll situation. This is where my special trick comes in…
Step 2: Spray with a diffuser
Here's my secret method. Get a diffuser bottle – mine was literally £1 from Boots – and fill it with water. Each section of hair that you roll into the rollers needs to be 1. brushed, and 2. sprayed with a mist of water. But only a mist! don't overdo it. Your hair should be only just damp, not actually "wet". Here's the key thing: don't spray the roots OR the tip of your hair.
If the roots are still wet from your shower, or they get sprayed with the diffuser, you'll end up with a bumpy looking scalp. This isn't the bit you want to be curly! Due to the style of the ringlets you get from using rollers, you want them to start slightly further down than the very base of the scalp.
If you spray the tips of the hair too much, your curls will look a bit weird at the ends. The reason for this is that the hair is finer at the tips, and additionally, because of the nature of rollers, will get wound slightly tighter than everything else. So you actually want to discourage the tips from being too curly – that way they'll match everything else in the end.
Step 3: Roll your hair into the rollers
The general rule is to roll away from your face. I also recommend using fairly large sections if possible – rollers give a very tight curl, so if you create too many sections you'll look like Shirley Temple got a perm.
Here's the key thing when rolling your hair: try to be as consistent as possible with the end piece. By this I mean: try to tuck it in straight away, rather than holding onto it and tucking it in at the end, and try to keep it as rolled as possible, rather than going off into various directions. The danger is that the tips of the hair don't fall into the ringlet in the same way the rest of the hair does, because in order to get your hair into the rollers, you ended up securing the end in some other way.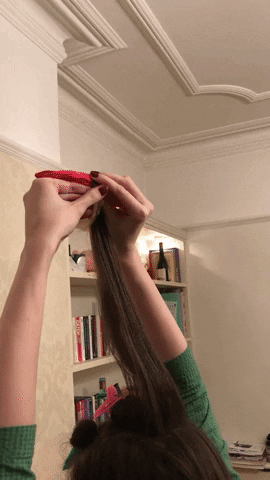 It won't look terrible, but it will look messier:
In terms of where to position them, it's completely up to you. This is an area where I haven't experimented so much. What I tend to do is start with a roll right at the front of my forehead, and then work backwards so I get a row of curls running from the front to the back of my scalp. I then create another row like this either side, and at that point all the hair has been used up – but there are lots of ways to arrange your curls!
Step 4: A final spritz of the spray bottle
Spray everything with a final layer of mist once it's securely in place.

Step 5: Cover your hair in a towel to sleep
I use a hair towel turban, i.e. a towel that's specifically designed to keep your hair in place. This is perfect, because it's also great for keeping the rollers in place. If you don't have one of these, I'd recommend using a smaller towel or even a handkerchief of some sort – just a breathable fabric that's secured around the rollers somehow, so they don't fall out in the night. It needs to be breathable so that the rolls can actually dry – this is crucial. I once used a plastic shower cap and woke up with wet, straight hair.
Now, get a good night's sleep. The rollers I have are fantastic because there's no plastic in there holding things in place – it's literally just foam covering a bendable piece of metal, meaning they're as soft as they can possibly be.
Step 6: Don't take the rollers out first thing in the morning
Leave them in until your event, or your photo sesh, or whatever it is. The longer they stay in, the better the curls will hold, so I'd recommend maximising this time.
Step 7: Remove the rollers
Here's how to remove them: turn them to one side and pull, leaving a ringlet. Don't unravel any which way!
Step 8: Brush out the ringlets with a paddle brush
This is where you "shape" the curls into whatever shape you like. Sometimes this may involve back combing to get some more volume on the top. You might also want to run your fingers through the curls rather than brushing them through, if you want them to be a bit more defined (although in my experience brushing them through is the best way to avoid them looking too "ringlet-y"). To be honest, it's completely up to you! Different brushes will produce different results.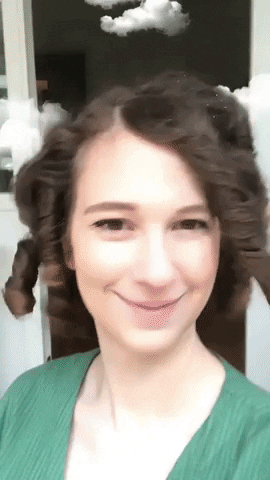 Step 9: Do not, under any circumstances, hairspray your hair
Hairspray will not make these curls look good. In my experience, hairspray does little to nothing in terms of making your curls last longer. They will last a full day as is already, and trust me, if they don't, covering your hair with a layer of film certainly won't you any favours. You'll just end up with slightly greasy looking non-curls. So do yourself a favour and ditch the spray.
And there you have it! The perfect roller curls.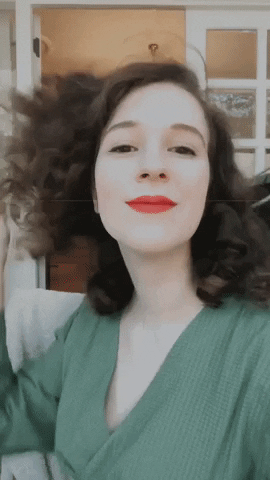 …I say "perfect", but roller curls are by their very nature, imperfect.
The most important thing to remember is that roller curls can be unpredictable. Your hair *won't* look the same every time you curl it – and that's ok! That's part of the fun. Experiment with it – particularly now that everyone's still in lockdown and you most likely won't be out and about much.
I also encourage you to try various things out for your hair – not everyone's hair is the same, so not all techniques will work equally well for everyone. The tips above work for my hair, but they may not work for yours – give them a go and see!
Let me know how it goes, and if you have any more tips in the comments! Xxx