Spending a lot of time pasta-less at home has given me a chance to think up some new recipes. First up was a spur of the moment decision today which turned out so amazing that I felt I needed to share it! I'm not even kidding it was like having restaurant food at home, and it took literally 10 minutes.
I should add that I got all of these ingredients from an almost-empty supermarket, so they're clearly not what everyone is stockpiling at the moment. Stay tuned for more recipes that don't involve pasta, tinned food, or toilet paper.
Ingredients:
1 500g pack gnocchi
100g of butter
1 clove of garlic
2 heaped tablespoonfuls of mascarpone
200ml of white wine
1 sprig of fresh rosemary
1 stalk of cherry tomatoes
Salt and pepper, for seasoning
Truffle (optional extra) (we added some leftover truffle butter to the recipe which was divine but it's a bit niche and definitely not necessary!)
Method:
Finely chop the garlic and fry it in the butter for 2 minutes. Add the gnocchi and fry for a further 5 minutes or so on a medium high heat until starting to brown, adding salt and pepper to taste. If you're adding truffle, add that too (also to taste).
In the meantime, heat the mascarpone and the white wine in a separate saucepan until the consistency is smooth. Make sure to melt the mascarpone first before adding the wine. The 200ml measure for the wine is more of a guideline – we added splashes of wine until it felt right, but we made sure the sauce consisted of slightly more wine than mascarpone. Remove the rosemary from the stalk and add this too. Stir continuously for 5 minutes or so, until the alcohol has burned away.
Halve the cherry tomatoes and add them to the gnocchi. Fry for another minute or two.
Add the sauce to the gnocchi and voila! Finished.
Unfortunately I have no photos of the preparation as this was made and eaten so quickly I barely knew what was happening. Here is a video of the cooking process from my instagram story – it's the best I can do.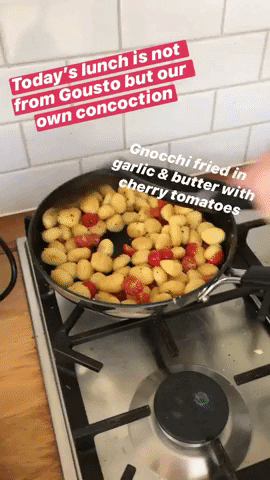 Pairing: I highly recommend pairing your meal with this Pouilly Fumé Sauvignon Blanc from Sainsbury's:
Feel free to substitute any ingredients and let me know how you got along in the comments!