Does your hair get greasy every day? Do you get a 5 o'clock shadow of sweat on your scalp? Does second day hair make you look like a cave troll (who hasn't washed his hair)? Then read on my friend.
You may have heard of The Hair Detox. You may even have attempted trying it. But when would you have the time to do such a thing? How would you stop people questioning whether you'd fallen off the rails while you train your hair to be a better person?
The Detox. The idea behind the hair detox is that the more often you wash you hair, the more often it will get greasy and you will therefore need to wash it again (and so the cycle continues). BUT there is a way out. It is possible for anyone to "train" their hair into not getting as greasy as quickly by limiting the number of times you wash it. I don't know all the science behind it (for references see HERE, HERE, and HERE), but the general idea is that by not stripping your hair of its natural oils you trick it into thinking it doesn't need to go into overdrive and produce a tonne of grease every day to keep your scalp looking fresh. You'll also stop it from drying out as quickly.
In order for The Detox to work you need the following 3 things:
1. A lot of time. You need a good couple weeks where there are no fancy events, no first dates – basically no reason to wash your hair whatsoever. Any sort of holiday is a good time to go for it, as the only people who have to suffer through your company tend to be family and / or close friends (and they already know what you look like!)
2. Some tools for convincing the world you haven't gone off the rails. These include but are not limited to: dry shampoo, dry conditioner, various hair bun nets, hairpins, hairspray.
3. The willpower to keep going. Be brave enough to not care very much what you look like (or what your scalp feels like) for a WHILE. you're essentially going to not wash your hair for the next 2 weeks (or get as close as possible to achieving this goal).
Here are the rules:
Products are allowed. Conditioner is allowed. Wetting your hair is allowed. The only thing you can't use is shampoo.*
That's it!
*I would, however, recommend not overdoing it with the products – a buildup over a few days can get quite uncomfortable. Only use as a last resort!
Once you've completed The Detox, decide on a period of time you don't want to wait between washes, and try to stick to a schedule. I personally go for twice a week (every 3-4 days), and I tend to time them so that they fall on occasions where I might want clean hair (parties and such).
I've created a diary of what my hair looks like every day for a week post-wash, and I've styled it in a variety of different ways. Once you've completed the "detox", you may find you can actually look presentable after a week of not washing your hair (although I'll let you be the judge of that)!
Day 1: Down
Freshly washed waheeeeyyyy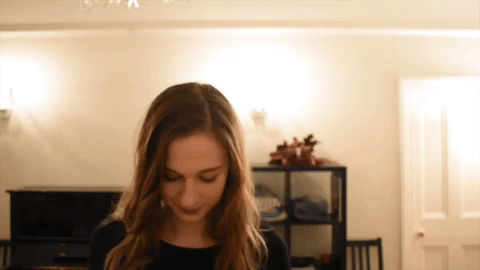 Day 2: Down
It should still be looking acceptable at this point. I personally don't brush my hair too often, as I don't want it to look like curtains, but to each their own.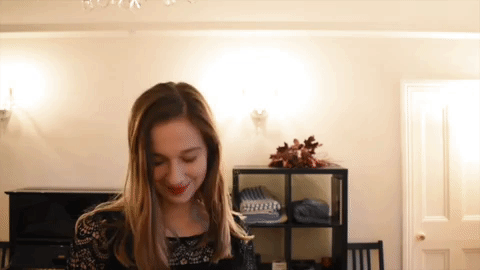 Day 3: Low ponytail
If there's one thing greasy hair can do well, it's slicked-back! I'd recommend doing this before going full-on with the dry shampoo. The key here is to secure the hair with bobby pins to create that swept-back look.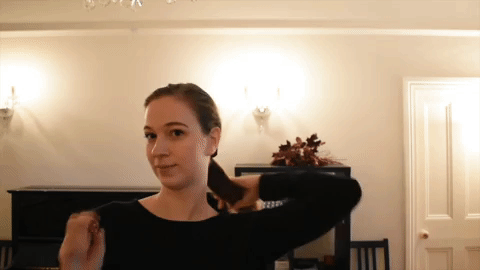 Day 4: Medium-high ponytail
While hair is still looking mildly presentable, raise the game by raising the ponytail. If you need to, add some spray-in conditioner at this point to leave the tips of the hair looking healthy.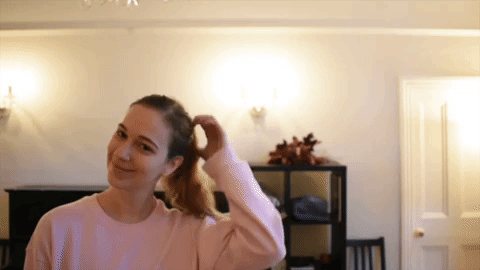 Day 5 Option 1: Leave yesterday's ponytail in as it was
For some reason, I absolutely love the "second day ponytail" look. I think it's super cute, and looks very casual – so I wanted to leave it up as an easy "alternative" for Day 5, if you can't be bothered to go all-out with the updo below.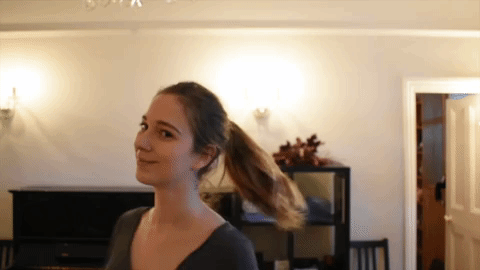 Day 5 Option 2: Low side-bun
I have received many compliments with this look, and it is now officially my go-to updo. Ridiculously easy. I didn't use dry shampoo but do use it if you must.
Top tip: once you've started with the buns, don't go back to ponytails as they'll be quite misshapen (but if you don't mind this then go for it).
Day 6: Top knot
Still rocking the slicked hair and avoiding dry shampoo for as long as possible, the next look is the top knot. I'd recommend doing really nice makeup to go with this look (bold lipstick if possible) to detract attention away from how inherently unattractive this hairstyle is (although for some reason the top knot seems to be in fashion at the minute – we're in luck!)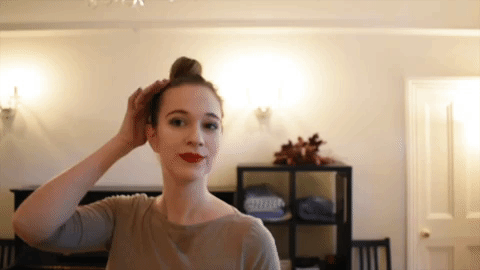 Day 7: Messy bun
Dry shampoo time! Use to create volume, then use a hair doughnut to create a messy bun right on top of your head. You can finally back-comb, use hairspray – the works.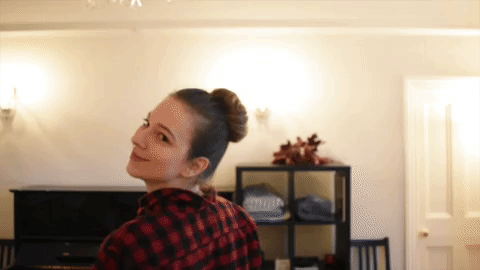 Later on Day 7: Washed again
Finally